DANAVA will bring rock´n´ roll to HDDT in May!
Time to announce something different, – the Portland-based rock and rollers DANAVA (us) for HDDT 2013! We are very happy to present this unique band coming and mixing this witch brew up! Their music will for sure blow your brains with its impossible sound! Even if their music has elements of doom their influences are so many there is no point in putting a label on these guys, space, prog, stoner? What we know is, its Heavy and we know that Danava will be the ones to shake your brain and wake you up from your slumber!
They have released two full-length albums in the past, the self-titled debut in 2006 and UnonoU in 2008. And they just put out their third album, Hemisphere Of Shadows.

"We're absolutely ecstatic to be a part of Heavy Days this year. We aren't necessarily citizens of Doomtown but Heavy is our middle name! Skål!" – Danava
"There are many paths to the jeweled gates of liberation. Possession, ecstasy, sacrilege, heresy. Paradox subjugates ego in the transcendent thrust toward the eternally expansive. The star studded spacecraft known as DANAVA, dispatched as it was from America's rainy northwest coast, emerges on the midnight horizon as a shining symbol of freedom in sound. Critics have done their best to identify this flying object with all manner of convenient but ultimately meaningless qualifiers…and all have missed the mark. This is not "stoner rock", even if the pilots are probably stoned. This is not "progressive rock", for the boundless soul thwarts gentrification. This is not "space rock", although their heads are full of meteor dust their boots still waltz in the gutter. This is not "retro rock", because tomorrow calls even as the third eye glances in reverse to hail electric ancestry. Armed to the teeth with Orgone amplification and mesmeric Luciferian aether, the technicolor demon people have risen from primordial depths to dispel all curses and sever all bonds. The illusion crawls and the skull in the looking glass grins. This is where beauty and terror dance to the symphonie fantastique."- Dennis Dread
Check them out and give them a listen here:
www.facebook.com/pages/DANAVA/212228184445
danavaband.blogspot.com
Hemisphere Of Shadows album trailer
Stay tuned for another announcement tomorrow!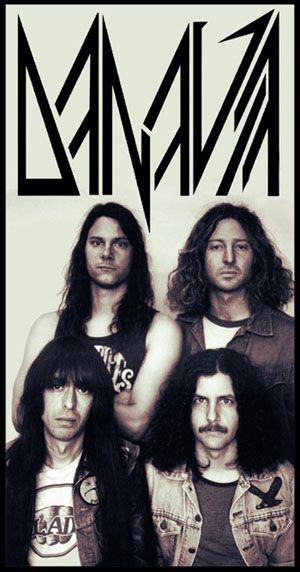 in